Multi-genre podcast exploring the breadth and depth of indie music talent from Toronto.
Chasing the changing music of your heart
July 11, 2012
1) J. Frank - Layers
2) Kaya - lovelife (don't ask me why) (3:20)
3) PERDUEbeats - Fuckin Epic (4:55)
4) Moves - Summertime (9:15)
5) Andrew Huang - Ma Bicyclette (ft. Side Pony Nation) (13:35)
6) Army Girls - Twice (16:35)
7) Mystic Village - Crazed Band (19:26)
8) words around the waist - The Sand Is Black (24:30)
9) Friendlyness and the human rights - Take A Stance (28:20)
10) m/b - a start (32:20)
11) Diia - Notice (34:30)
12) I.S. Noise - Dreams (38:00)
13) Shawn Clarke - To Think I Once Was Lost (39:00)
14) Armistice - City lights cry (42:20)
15) No Step - Spinner (45:45)

16) sufususu - Radio (49:35)
17) bgm - kevin is lonely (53:42)
18) Waxlimbs - The Greening of India (56:00)

19) Noyz - Degrees of Freedom (56:50)
20) The Handsome Fix - Your Neighbour's Barrel (59:20)
21) Freeman dre & The Kitchen Party - To The Lost (61:26)
Been looking back on the ambitions and accomplishments of my life with a curious wonder. Was it worth it? All the time and effort spent on things that don't seem so important now? As I look at the dreams that make me nervous but which I want to chase today I wonder if they'll be worth the risk. As I log off to contemplate these things some more I'll leave you with a comic from XKCD.com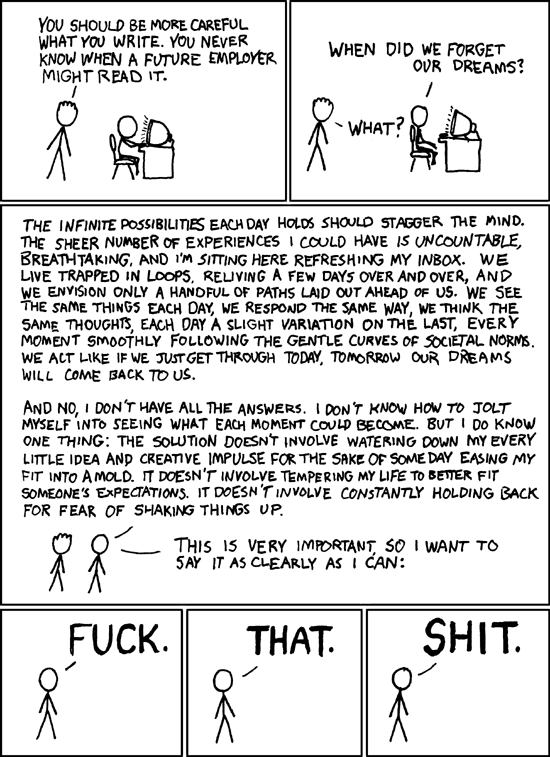 Freeman Dre's beauty track is off his new album which drops July 19th at 9pm. Join him and the Kitchen Party at the horseshoe for the release. It's a touching concept album, on which Dre applies his lyrical wizardry to telling the tale of multiple generations of a family history.
For the artists listening out there. Pay special attention to m/b's track. If you're looking for live music at your art shows m/b would be glad to help you out.
On a final note, I wonder how many people can identify the Toronto locations in Andrew Huang's video?
Thanks to the artists, all songs are used with permission. Thanks to archive.org for bandwidth and hosting. This podcast is often created with solar energy so the sun also deserves some thanks.
Comments powered by

Disqus